Blog
Camp with Kids Gets Signature HealthCARE Elders to Embrace Spontaneity
When staff at Pickett Care and Rehabilitation Center had a hard time finding childcare for their kids during the summer of 2008, Camp Signature was created. Ten years later over 50 Signature locations are hosting a summer camp, where not only kids benefit, but residents too.
"Camp and the kids, who come to know our elders on a first-name basis, creates that spontaneity. Seeing a kid's imagination, inspires our residents," Angie McAllister, Signature's Director of Cultural Transformation, said.
Whether a day at camp is an activity with elders and kids interacting together or separately, the spontaneity and joyful energy brought into each center by the kids is infectious. The Eden Alternative Principle #5 speaks of spontaneity and how this industry needs to create an environment in which unexpected things can take place.
In the first summer alone of Camp Signature, residents who were previously depressed or refused opportunities for social interaction, were attending quality of life activities, volunteer hours increased, and staff saved on childcare expenses.
Friendships can begin can at any age. "During last year's camp, the kids and elders were creating collages. When one of our elders, who isn't fond of kids joined in, I stayed to watch. It was a one in a million moment, she was helping him, and he was helping her create an art project together," said, Judy Yetter, who has served in long-term care for over 20 years and is the Quality of Life Director at Oakview Care and Rehabilitation Center.
Kids, teenagers and elders salute the flag on Memorial Day during Camp at Signature HealthCARE at Colonial.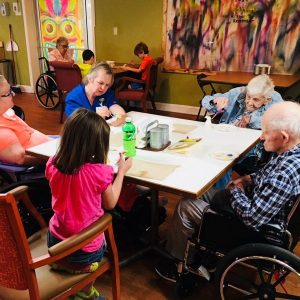 During Camp, quality of life activities are intergenerational projects at Oakview Care and Rehabilitation Center.
Spontaneous waves of fun take over the dining room during Camp at Signature HealthCARE of Greeneville.
At Signature HealthCARE at Clinton County, gardening is a team activity during Camp.