Blog
Elizabethtown Groundbreaking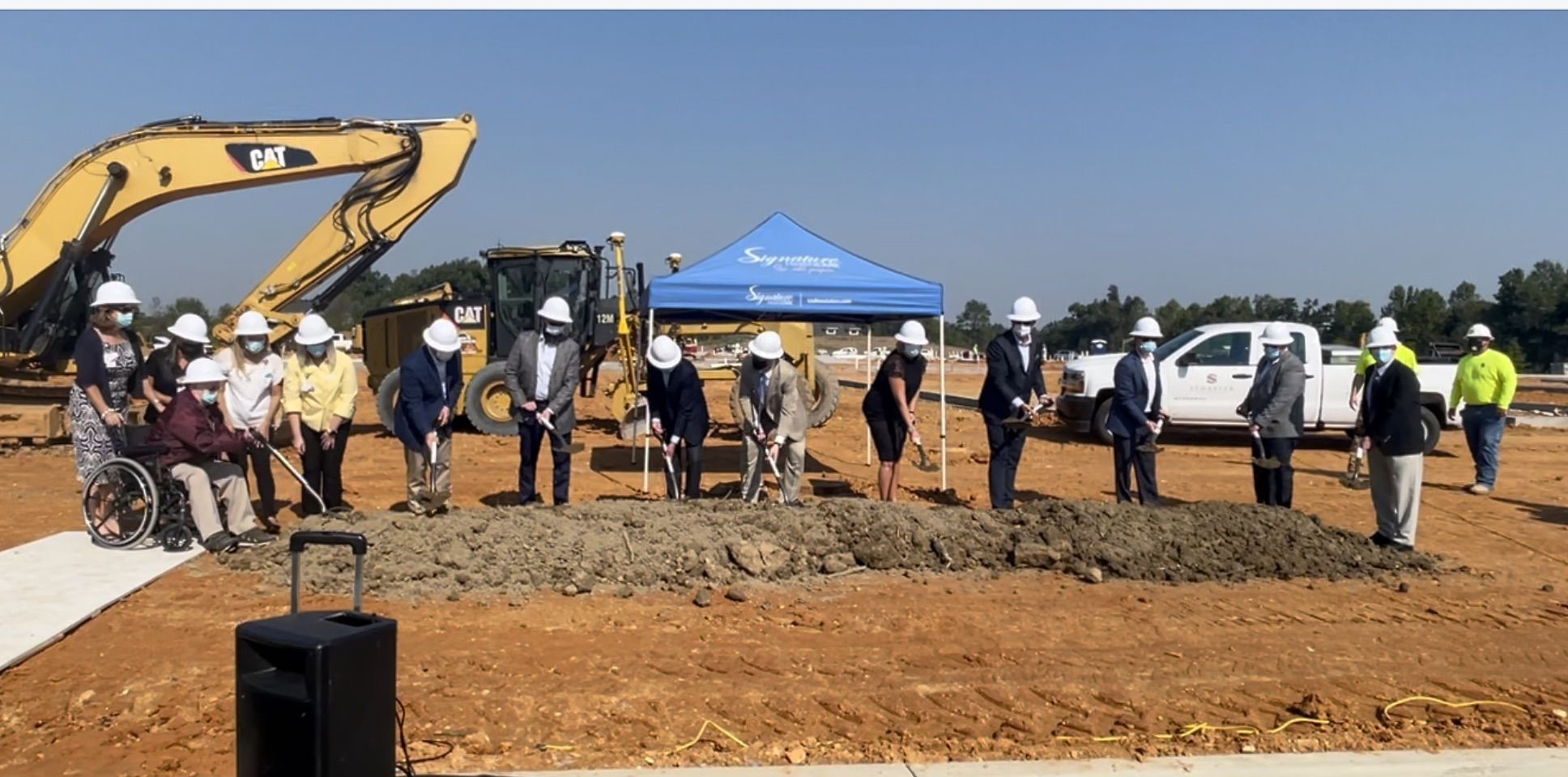 Expanding with the Growing Needs of The Community
During these ever-changing times within a global pandemic, Signature HealthCARE continually stands on all its foundational pillars: Innovation, Learning, and Spirituality. Innovation has been the catalyst for many of the proactive advancements Signature HealthCARE has made as we navigate through this historic time in healthcare. We believe Innovation has led Signature HealthCARE to literally break new ground, and it gives us great pleasure to announce, on Wednesday, September 29th, 2021, at 11am, on the grounds of 1850 Veterans Way, Signature HealthCARE celebrated a groundbreaking for the construction of a new 124-bed long-term care facility, for our Elizabethtown location and community.
"Our focus continues to be to revolutionize healthcare and help our beloved residents live life with purpose," said Nick Jacoby, Chief Development Officer for Signature HealthCARE. "So, we couldn't be more excited about this opportunity. While our current facility in Elizabethtown is meeting the needs of our residents and staff, we see the potential for growth and the value of revolutionary upgrades, for the utmost care of our residents and staff."
On Wednesday, the groundbreaking will signify the beginning of a new, 70-thousand square foot facility to be built at 1850 Veterans Way. However, in correlation to this new beginning, the location will be ceremoniously renamed at the groundbreaking. The new facility will include an increase of 60 private rooms, 4 nursing stations, and 2 dining rooms, each serviced by a serving kitchen to offer residents more customized meals and options. In addition, the new location will have an on-site Dialysis Den, allowing residents the ability to have their dialysis appointments within the facility, a state-of-the-art therapy gym with an adjoining outdoor therapy courtyard, and additional outside courtyards adjacent to the dining areas, offering al fresco options for residents.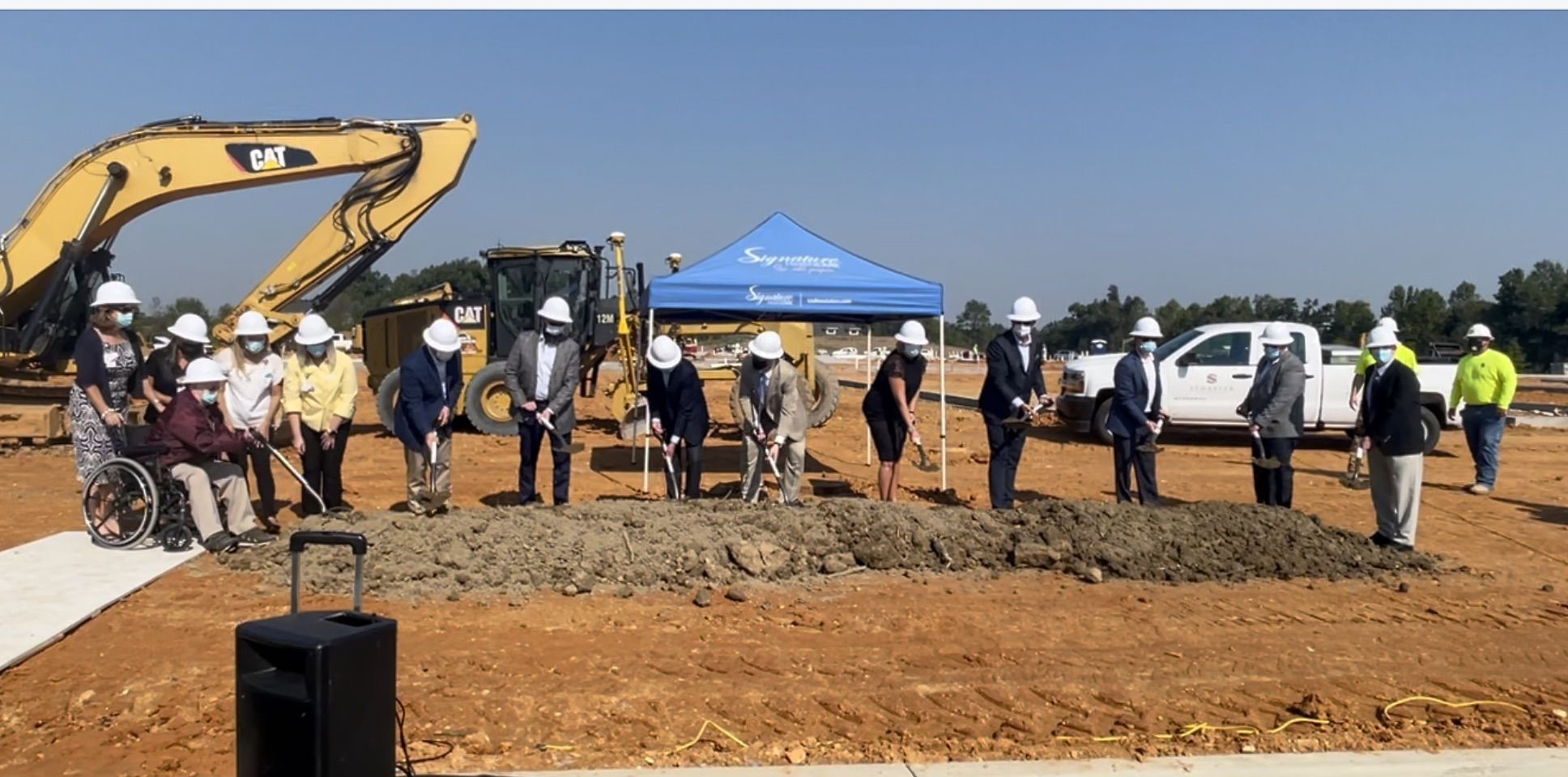 The initial phases of construction have already begun with a projected completion date of Fall 2022, barring any unforeseen circumstances. Upon completion of the new facility for Signature HealthCARE of Elizabethtown, all current residents and staff will be moved to the new facility, if they so desire. The existing location on Woodland Drive will cease all operations upon the opening of the new facility, which will increase capacity from 112 beds to 124 beds, opening new job opportunities to add to the current staff of approximately 150 full & part-time staff.
"Growth and opportunity mean life and vitality for our residents, their families, and our heroic stakeholders," said Joe Steier, III, President and CEO of Signature HealthCARE. "For 15 years, Signature HealthCARE has made a commitment to help our community live life with purpose, even during the toughest times of our industry. We know this expansion, and what it will offer, will continue that mission, and broaden its reach to more individuals within Elizabethtown, Hardin County, and all the surrounding counties it serves. These are tough times for us all, so this literal groundbreaking day is exciting to us!"
Governor Andy Beshear sent his congratulations in celebrating this monumental milestone in serving Elizabethtown.
"The health care heroes and residents in long-term care have tirelessly battled COVID-19 since it arrived in our commonwealth, working to protect as many people as possible. They have shown the true spirit of Team Kentucky – neighbor helping neighbor and choosing to do what's right. These residents deserve the best facilities possible to keep them safe and make sure they feel at home, and the staff deserve our support in getting the resources they need. Congratulations to Signature Healthcare on this milestone, and I'm excited to see how this new facility serves the Elizabethtown community."
Governor Andy Beshear
We wanted to send a sincere thank you to Governor Beshear. It's our pleasure to continue serving our community, neighbors, our stakeholders and our residents.