Blog
Signature HealthCARE Senior Olympics: Making Magic Happen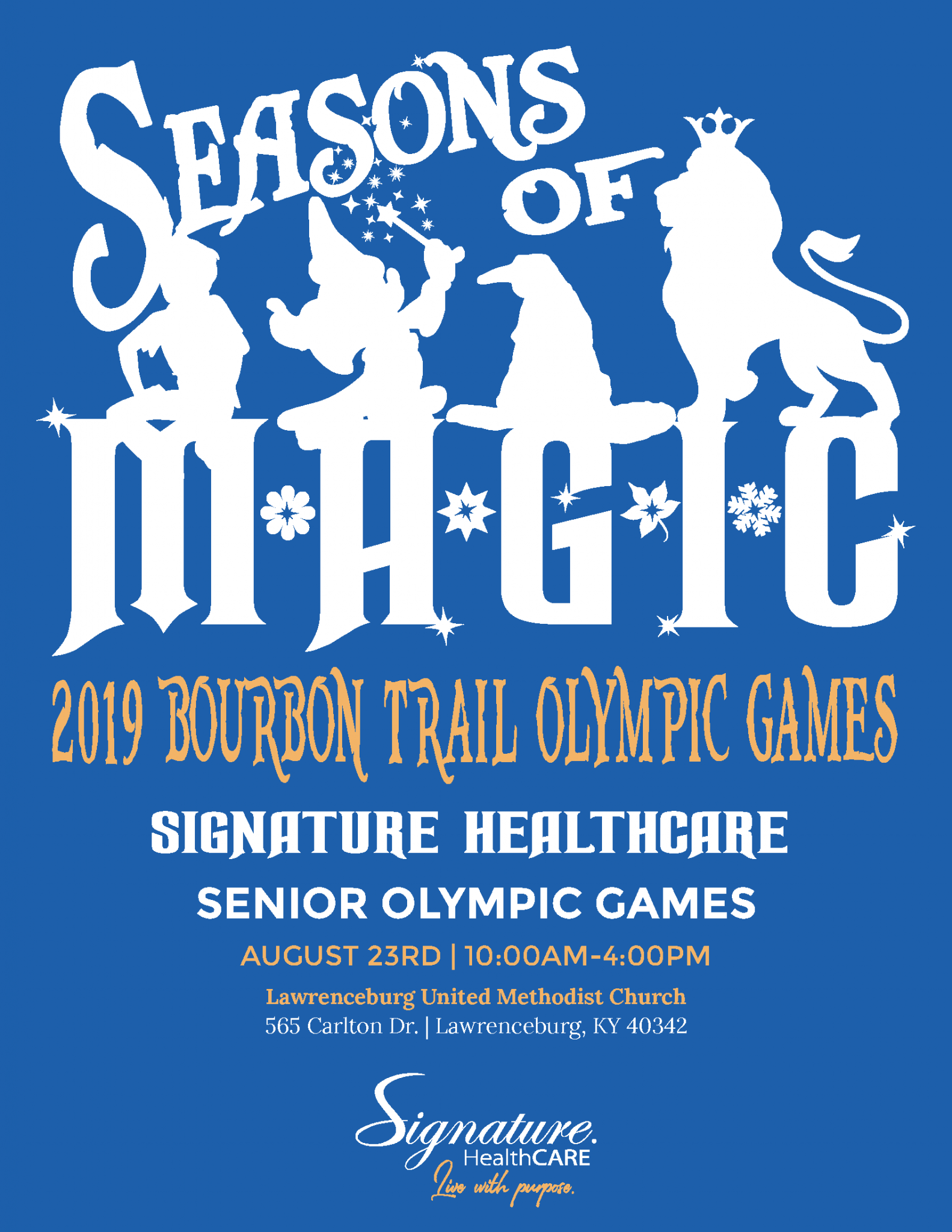 Lawrenceburg, KY – Aug. 23, 2019 – Forty individuals from ten Signature HealthCARE facilities in Kentucky defied age and went head-to-head in a little friendly competition at the annual Senior Olympics games.
With this year's theme, Seasons of Magic, various physical, cognitive, and sensory games related to each season were played. Residents spent winter in Narnia, spring in Neverland, summer at Disney, and fall in Hogwarts. A total of eight games, two for each season, occurred, including archery, corn hole, quidditch, and much more. For individuals who preferred a more relaxed Senior Olympics, a photo booth was set up, along with a spiritual rest center, which was provided by the Chaplains of the ten homes.
The games took place at Lawrenceburg United Methodist Church in Lawrenceburg, Ky. Opening ceremonies began at 10:30 a.m. EST, followed by the first round of games at 11:30 a.m. EST. After the morning games, lunch was served with the assistance of the Anderson County Sherriff's Department. After lunch, the second round of competitions took place. The day wrapped up with the closing ceremonies and presentation of medals.
Gold, Silver, and Bronze medals were awarded to the individual with the highest scores for each game. Facility teams also competed to win a trophy for Team Spirit, Lip Sync Battle, Best Costume, Best Game Decoration, Best Team Banner, and of course, Overall Highest Score.
It was a close call, but leading the day was Harrodsburg Health and Rehabilitation Center. They came out victorious and earned the gold. In a close eight-point difference, Signature HealthCARE at Heritage Hall earned their Silver medal, while Signature HealthCARE at Colonial landed the Bronze medal.
Throughout the day, Signature stakeholders served as care partners and cheerleaders, encouraging the residents and cheering them on to gold. Three stakeholders from the Commonwealth region of Signature HealthCARE served as judges – Jason Shelton, State Operations President; Mark Bush, Vice President of Financial Operations; and Linda McDaniel, Vice President of Clinical Operations.
"The theme was all about creating magical opportunities for the elders during the different seasons of the year," Roni Anderson, Regional Quality of Life Director at Signature HealthCARE, said. "The day was fun-filled from the time they arrived to the end of the day. Lots of great fun, and certainly a wealth of competition from all the elders and stakeholders in attendance."
Senior Olympics is one of several unique quality of life initiatives Signature hosts to lead radical change across the healthcare landscape. Teams practice months in advance and work hard to earn the title of Senior Olympics Champion. Join us in congratulating all those who participated and those who took home the prize.